First live streaming of Juno Awards; a special behind the scenes cybercast
The Canadian music industry's Juno Awards show, presented in Vancouver, BC March 22, 1998, marked the first time a major awards ceremony was produced live video to the internet. Using RealVideo's live streaming technology, Interactive Netcasting Systems (INSINC) of Burnaby, BC produced a 4-hour backstage cybercast for world-wide internet viewers.
While CBC national television broadcast the actual ceremony, the internet audience was able to see the backstage drama behind-the -scenes in the green rooms and on-site media centres. Thirty-seven of thirty-nine Juno Award winners visited the cybercast production site for live interviews with hosts Karen Pace and Michael Godin. Other celebrity guests and presenters stopped by for the cameras.
The Juno Beat Cybercast, produced by Pangaea NewMedia of Toronto, has been an audio-only presentation for the past two years. Live video was added this year using the services of Interactive Netcasting Systems.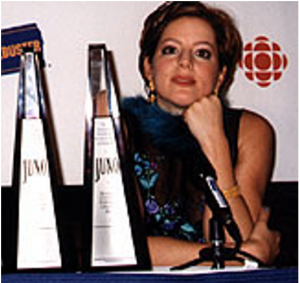 "Our Juno Beat team was right in the heart of it all and in a non-stop production we conveyed all the excitement and candid observations to a world-wide internet audience," said executive producer Tony Tobias.
"Similar world class events have offered audio simulcasts or video clips on the internet," said Hugh Dobbie, President of Interactive Netcasting Systems, "but this marked the first time live video has been used anywhere. We were thrilled to have been able to help the Juno Awards create internet history."
Hosted by Jason Priestley with performances by Jann Arden, Sarah McLachlan, and Shania Twain. David Foster was inducted into the Canadian Music Hall of Fame https://canadianmusichalloffame.ca/.
Interactive Netcasting Systems, a subsidiary of dowco.com Internet, is an internet based multi-media production and distribution company. As one of Canada's leading internet broadcasters, INSINC provides internet services to television and radio producers, web developers and corporate clients.